Home » Posts tagged 'In Color Shimmer Vellum'
Tag Archives:
In Color Shimmer Vellum
August 30, 2021 / Leave a comment
Hello Stamping Friends,
Hostess code:  WKQ6CJ7R with Cindy as our hostess this month.
I just had the most incredible weekend with the Backstage At Home Stampin' Up! virtual leader's event.  The speakers were tremendous and the chance to network with demonstrators all over the world was delightful!  Next year the event will be in person in New Orleans!  Join my team of Carin' Crafters and/or let me help you promote so you, too, can attend these events!
Would you like to attend a virtual Stampin' Up! conference for any level of demonstrator November 11-13?   Join my team, if you haven't, and we'll meet here and have fun together; for you out of town folks, we will set up a Zoom with you so you feel a part of the PARTY!  Don't have an upline nearby?  Come and join the fun, we are all a family of stampers no matter what!   So hop on over to your website tomorrow, August 31, and sign up for the November event, then block it out on your calendar so you don't make appointments on those days.  Click on the "Events" tab in your demonstrator website and find out all about it!
Wow!  You really have a lot of enthusiasm today!
I do, Sal!  And I can't wait to hear all the other speakers when the videos are posted.  We had to choose just one speaker for each session.  It was hard to choose since the topics all sounded interesting.
Now– let's go on to today's agenda of posting the Mystery card and the swaps from August.  We meet on the second Tuesday of the month for club, or for some event I conjure up, and then we meet by Zoom on the fourth Tuesday of the month for a Mystery Card challenge and to share our swaps.  September 14 we are having casual crafting at my house to make a Pinwheel Tower Card at 9:30.  Prepare your own kit and we will work together to make the cards.  The tower card is the new rage on social media and I think every video I have watched uses different measurements.  Choose one of the videos you like and make a kit to bring on the 14th at 9:30.  I will put on the coffee!
---
Step 1:  Adhere the large DSP (Designer Series Paper) section to the front of the card base.
Step 2:  Adhere the 1″ scored section of the card base strip at the middle of the inside of the card base 1/8″ over from right
Step 3:  Turn the strip of DSP over to its other side and adhere to the neutral  4" X 5 ¼" piece on the right side
Step 4:  Adhere the neutral and its DSP on top of the strip glued on in step 2
Step 5:  Add a greeting or an image on the strip that folds over the front and decorate
I used the 'Gingerbread & Peppermint' DSP from the Mini Catalog and fussy cut out the ornaments and peppermints.  If I had purchased the bundle or the entire suite I would have had dies to cut out both.  There are five 5! sizes of circles in this die set so imagine the possibilities!  Do you know where that tag comes from?  It is in the new 'Pretty Pillow Box Dies'.  The greetings are in the 'Snowman Season Stamp Set', a carryover in the Annual Catalog.
It isn't even September and you have a Christmas card made!  I am impressed!
It is a record, Sal!  Maybe next year I will do a 'Christmas in July' like so many others like to do.
Sharon Fincham used the 'Turtle Friends' stamp set on retired Whale of A Time DSP.  She hooked her flap under the 'Story Label Punch' to keep the card shut.  Great idea, Sharon.
Heather Guitreau used the 'In The Wild' DSP and 'Big Cats' dies.  She made a great closing flap and used a greeting from the 'Wild Cats' stamp set:
She made a second card thinking she needed to follow directions but we all know that the best creativity often happens outside the box!
Joy Meadow's card uses the 'Pansy Petals' DSP with the greeting from the 'Pansy Patch' stamp set on a 'Story Label' punch.
.   
Ann Hausmann used the 'Beautifully Penned' DSP that is free with a $50 purchase during this round of Sale A Bration which goes through September 30.  I love the pop of color on the black and white.
Jo Brooks' card made me wish I had purchased the Playful Pets DSP from the last catalog.  However, we have pets DSP in our new mini called 'Sweet Stockings' and it is now on my wish list!
.
Is that as cute as it gets?!    Thank you everyone for a fun time of Mystery Stamping.  I ran out of time and sent you a video instead of walking you through each step but I will get back to normal in September!
You even have the Mystery card picked out I hear! 
Shhhh, Sal, or I will start talking about it and give everything mysterious away!
---
August 2021 Swaps
Jo Brooks used the 'Stitched Triangle' dies and for the bouquet of flowers, the stamps in 'Welcoming Window'.  It is the great two step stamping that we love with a stamp for the greenery and another stamp for the flowers.  Adding the lace was genius!
.  
Sharon Fincham used the 'Turtle Friends' and 'Scalloped Contours' die for this delightful card:
.
.  
Joy Meadows used the 'Pattern Party' DSP available to hostess' and the 'Dragonflies' punch with lots of added sparkle on the black.  Note how she used a flap on the front of the base instead of the standard base.  Very cool and shows off both sides of the pretty DSP.
.
Ann Hausmann found the cutest little lip gloss containers that looked like popsicles at Target and made a fun popsicle card with Very Vanilla and Pool Party.  The popsicle images are in the 'Sweet Ice Cream' stamp set, retired from the last mini,  but Ann hand drew all the faces to match the lip gloss container.  You are the cool one, Ann!!
Lori had fun with the 'Nothing's Better Than' stamp set which carried over to the Annual Catalog.  She formatted the front words on her computer, printed them on card stock then added the words and images which she cut with her Brother Scan and Cut.  The coloring is awesome as she matched the coloring on the words to the colored images.  So Creative!
.
My swap card was a clean and simple card.  I wanted to show the swappers the beautiful 'In Color Shimmer Vellum'  (the pink layer on the card) and the 'Expressions In Ink' DSP with its gold foil on the pink that looks like the alcohol ink on vellum technique we just learned.  I used the 'Tailored Tags' dies with a cutout of gold for the reinforcement ring.  The ribbon is the In Color 3/8″ Open Weave ribbon.  To get the ribbon to lay on the tag the way I wanted, I used two pieces.  I used glue dots to loop the bows on the right and left with nice little tails and then used a second piece and more glue dots to tie a middle around the bow.  I secured the knot and the tails of this piece of ribbon on back of the tag.  The good sized thanks is in the 'Artistically Inked' stamp set. Can you see the shimmer of the pink vellum?
Recipe for Thank You Card
Base:  Thick Basic White, 5 1/2 X 8 1/2 scored at 4 1/4
Layer:  Polished Pink Shimmer Vellum, 5 1/2 X 4 1/4
Top:  Expressions in Ink DSP, 5 1/4 X 4
Tag:  Basic White, 3 1/2 X 1 1/2, die cut with Tailor Made Tag, third from the largest plain tag

Gold Foil, Scrap, cut with the square reinforcement ring

Inside Border Strip: Polished Pink Shimmer Vellum, 4 1/4 X 1
Inside Top Layer:  Expressions In Ink DSP, 4 X 3/4
Embellishment:  3 In Color gems
Ink:  Polished Pink
Stamp Set:  Artistically Inked
---
Did you enjoy that show?  It is like having a scrapbook of cards that I hope inspires you to make your own special creation.
---
Remember to join Paper Pumpkin before September 10th if you want this special fall kit:
---
We have one more month to take advantage of Sale A Bration's free products!
---
---
And remember to sign up for On Stage and sign up to be a part of my team if you would like to attend On Stage.  (Think Prize Patrol, A goody bag, Make and Takes, The Upcoming catalog and lots of fun!)  Click on the JOIN button here or at the tab on the blog.
Hostess code:  WKQ6CJ7R with Cindy as our hostess this month.  Cindy's craft room is gradually getting set up there in Tehachapi, California and she made this cool card:
Since we didn't have club in September, I set Cindy up as hostess to help her get back into stamping.  She has been regularly placing outside orders that were credited to club members hostess codes so it seemed right to give her a chance at free products!
We hope to see you on Zoom some fourth Tuesday of a month, Cindy!
Her Hostess code:  WKQ6CJ7R, click on little Sal to go to the online store!
SAL,   Stay And Linger a bit dear summer
Karen (Thank you for choosing me as your demonstrator.  After this past weekend of meeting and seeing  many talented demonstrators, I felt honored to have so many of you following me.)
August 20, 2021 / Leave a comment
Hello Stamping Friends,
Hostess Code through September 15:  WKQ6CJ7R
Stock up on stamps before August 29 when prices go up!  Thanks for the reminder, Joy!
August club cards will be posted separately on this blog so the post is shorter, so check the next post for the Shaded Summer partial die cutting and shaded stamping card.
Before we go to the card let's look at what is happening this month at Stampin' Up!
We have a sneak peak of September Paper Pumpkin:
I prepay for a three month subscription to Paper Pumpkin and then activate it now for the September, October and November kits.  Even when one of the kits was Christmas tags, I made cards from the tags and had a nice addition to my Christmas cards. I don't always use the treat boxes in the September kit but this kit will have instructions to turn the box into a wheelbarrow and we can put our pumpkins, apples and jack-o-lanterns in the wheelbarrow for a nice end table decoration.  Love it!  Click the image above to go to the Paper Pumpkin site or place an order for a prepaid subscription and then activate it whenever you choose. PS – Don't add your credit card info when you have a prepaid plan, just enter the code they sent to your email.
And if you buy a 3 month subscription, you will get a free $50 Sale A Bration product.  Just saying……
Thanks, Sal, for throwing in that tidbit for getting the most for your dollars.  Sale A Bration runs through the end of September with the opportunity to buy $50 and get a level one product for free or buy $100 and get a level 2 product for free.  Here's another look at the brochure:
More details HERE.
---
Sea Life Dies With A Background Of Alcohol Ink On Vellum
This card and technique were inspired by Patty Bennett.
Here is a youtube video for you:

Recipe:
Base:  Just Jade, 4 1/4 X 11, scored at 5 1/2
Layer 1 (X2):  Misty Moonlight, 4 1/8 X 5 3/8
Layer 2 (X2):  Basic White, 4 X 5 1/4
Cardstock Vellum:  4 1/4 X 6 (This gives you 3/4″ to trim off after creating your background and 1/4 for trimming edges)
Double Back Adhesive Sheet: 41/4 X 6
Front Greeting: Basic White, 2 1/2 X 3/4 (I used a 'Many Messages' greeting)
Seahorse:  Blue Ombre Specialty Paper, 4X2

Note:  you will need to fussy cut two tiny sections on the belly and two sections around the fin since this is a partial die

Fish (X3): Blue Ombre Specialty Paper, 1 1/2 X 2
Seahorse Backing:  Be Dazzling SAB specialty paper, 4 X 2

Note:  Cover the back of your 4 X 2 Be Dazzling paper with scotch tape before die cutting

Seaweed:  Evening Evergreen Shimmer Vellum, 3 X 2 1/2
Easel (X2):  Misty Moonlight, 2 3/4 X 4, score at 2 3/8 and 1 5/8 and then cut with largest hippo die lining up the middle
Stampin' Blends Alcohol Markers:  Lt Misty Moonlight, Lt Night of Navy, Dk Shaded Spruce, Dk Night of Navy
Ink:  Shaded Spruce
Tools:  Sea Life Dies, Messages Die, Hippo Die for Easel, Medium Tip Water Painter, Basic Black Journaler to dot the eyes
91% Alcohol
Stamp Sets: Many Messages, Friends Are Like Seashells
Embellishments:  Three Basic Rhinestones
To make an alcohol ink on vellum background  – Prepare your surface.  I have a thin plastic quilting sheet I use.
Place a piece of copy paper underneath your vellum to soak up the excess that hits the edges of the vellum
Use a small container with a little alcohol in it for dipping your Water Painter
Have a paper towel next to the container to clean the Water Painter often so you don't mix colors
Scribble on your vellum:
Place your copier paper under the vellum and dab alcohol one color at a time on the vellum.  Be generous with the alcohol and dab starting with all the Light Misty Moonlight scribbles, then Light Night of Navy, Dark Shaded Spruce and ending by dabbing all the Dark Night of Navy scribbles.  Use your breath or a straw to blow the alcohol so the colors blend.  Blow any excess build up off the edges so you don't get a solid line at the sides.
Add additional scribbles if you have areas that are 'blah' and repeat.
When you are pleased with the result make it a "wow" by dipping your clean brush in the alcohol and then flick the brush on your finger, staying about 6″ over the vellum.  For small bubbles use just a little alcohol and stay a good distance over the vellum, for large bubbles use a little more alcohol in the brush and be closer to the vellum.  Scroll back up to my card front and you will see I have pretty large bubbles and then as the alcohol in the brush ran out the bubbles are smaller.
Let the vellum dry or use the lightest setting on the heat gun to dry the vellum.
Attach the vellum to the double back adhesive sheet, trim to 4″ X 6″ and then cut 3/4″ off the bottom for an inside strip. You should have a 4″ X 5 1/4″ to mount on the Basic White by removing the other side of the double back adhesive.  If you have trouble attaching it squarely to the Basic White just trim the edges after attaching as needed.
The rest of the construction is pretty basic.  I used Tombow liquid glue to attach the seahorse blue top to the Be Dazzling paper.  Before popping up the seahorse with dimensionals I attached the seaweed at the bottom in just a few places with Tombow glue  and then wrapped the seahorse around the left branch I left unattached.  The seahorse, fish and greeting are all popped up with dimensionals.  Don't forget to dot little black eyes on the seahorse and fish with the Basic Black Journaler.  Since the fish are popped up, the eyes seem to follow you as you move the card – cute!
You're making that up…..
I guess they'll just have to make one to see if it's true.
Remember to add your three rhinestones for more bubbles!
Lastly I added my new type of Easel to the back of the card using the largest of the Hippo Dies.  I cut two and glued them together for a little extra strength since the front was pretty heavy.
I would love to see what you make using this technique.  Post a picture in the comments section!
These dies are beautiful!  Jo Brooks used the large fish die and the 'Whale Of A Time' designer series paper to create this card:
Thank you, Jo!
And thank you for spending part of your day with me!  I hope we have been able to bring you a pinch of creativity to spice up your crafting life!
Shop for these products now by clicking on little Sal in the computer!
Hostess Code through September 15:  WKQ6CJ7R
SAL,  Stamp A Lot, Smile A Little
Karen
Welcome to my blog!
Online Store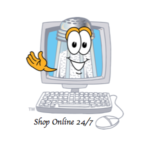 Subscribe to Blog via Email
Join 128 other subscribers
Categories