February 2, 2022 / 1 Comment on All Together Suite of Products & Mystery Card #18
Hello Stamping Friends,
Hostess code for February is M4KH246Q.   Use the code if your order is under $150; when your order hits the $150 you will get the hostess dollars yourself.
Here's a video from the home office that describes the new products so well:
https://www.youtube.com/watch?v=moS2vdxY6yc
.  
.  
.
Get the pdf for this chart HERE
.  Ooohh….I like the pinky promise stamp!
Me, too, Sal!  It brought back memories of elementary school friends.
Would you like to look at December's Mystery card?
  What happened to January?
Ahh, January!  Snowstorms caused us to cancel club twice but finally we had club on the last day of January. Obviously no days left for a Zoom meeting with a mystery card.
January 4th was my daughter Amber's birthday and the 9th was Emmitt's 4th birthday so we celebrated with a Ninja Turtle party!  Paul had to be both grandpa and dad since dad was in Seattle.
Of course, he had to have a Ninja turtle card:
.  
The little dog looks just like Ruger don't you think?!  I used the 'Back on Your Feet' stamp set and the retired 'Ready For Christmas' stamp set and 'Christmas Staircase' dies.   I cut the curves with the 'Polar Bear Dies' and punched out a balloon.  The number '4' was die cut with the 'Playful Alphabet' die.  I hand drew the Ninja mask!
Jaxson's birthday was just two weeks earlier so he received a Ninja in red – I think that is Michaelangelo and the blue is Donatello.
Then January 7th our fifth grandbaby decided to come early and was born to Stacia and Jonathan. Emma became a big sister!  Josephine Jasmine Whitehead entered the world weighing 5 lbs 13 oz.  She was named after Paul's mom!  She was born one day before her daddy's birthday on the 8th!  Very special in so many ways!
And if that wasn't enough we had sold the motorhome after Christmas and in January Paul found a new truck and camper to make our travels better!  It is an Arctic Fox 811. They sure make them better than the two cab over campers we owned in the past and it is a four season so we can take it to Steamboat to see the family!
Wow, that was quite the month! Now can we see the mystery card?
I needed several cards so I changed the front word die cuts to suit the situation:
I used a Crumb Cake base with a layer of Evening Evergreen, the gorgeous Ever Eden DSP-Designer Series Paper, another layer of Evening Evergreen with a Soft Succulent layer and then the Basic White for the art work.  The middle card has an extra layer of the Ever Eden cotton paper that is very like tissue and made a nice background with a bit of a different texture.  The gold is from our laser cut gold DSP and layered on top of stamped greenery and cut out greenery from the Sparkle of the Season bundle.   Happy New Year and Happy Day are from the Word Wishes dies.  Happy Birthday is the retired Birthday die.
The front is a flap that opens and has a pocket for a gift card.  The greeting is from the 'Celebrating You' set in the mini catalog.
Jo Brooks participated and made a birthday card with lots of cool balloons!!
. 
.  
Joy Meadows also made a birthday card with a fun look of flowers and no need for a separate pocket!
. 
Sharon Fincham made the card going vertically.
.  
Don't you just love those little bugs!!   Thank you ladies for participating!
oo-oo-aa-aa-ee-ee
What are you doing, Sal, sounding like a monkey?
. The February Paper Pumpkin has a monkey!
Ohhh, yes! Safari Celebration – sign up by the 10th to get your kit  – click HERE
Hostess code for February is M4KH246Q.  Click on little Sal in the computer to go to my online store.
Welcome to my blog!
Online Store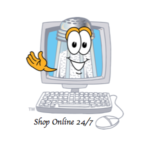 Subscribe to Blog via Email
Join 159 other subscribers
Categories