September 21, 2020 / Leave a comment
Hello Stampin' Friends,
Remember to click on the header to go to the full website where the view is better!
Select stamps in the Annual Catalog will be on sale for 24 hours this Wednesday!
Here is a list from Deb Snyder (thank you, Deb) with page numbers and only the English versions, though the French versions are available as well:
Here is the above list in pdf format so you don't have to click on three screen prints:
US market_24 hour stamp sale Page Number Order
Here is Stampin' Up!'s list with the French included:
And finally, for all of us who use Excel and sort and search:
US market_24 hour stamp sale in Excel
Wednesday morning there will be a link on the online store and you can quickly look at images of all the stamp sets.
The Hostess Code for September is:  UVPPR6YT click on Sal in the computer to go to the new online store.
Have a wonderful day!
SAL,     Sales A Lurking in the future
Karen
September 9, 2020 / Leave a comment
Hello Stamping Friends,
I do so love fall!  However, I would really like fall to come before winter, yet yesterday and today we have had snow here in Castle Rock, CO, so it looks like winter.
Maybe it is all those Christmas cards you are making that brought on winter. 
Now Sal, let's just call it coincidence and Colorado's unpredictable weather, okay?
We have two fall cards for you today and a Facebook Live video if you prefer videos over words, though the recipes follow.
Someday I will teach Sal to push the 'Go Live'  and 'Start Streaming' buttons so I can look at the camera.  I have heard there is a way to edit the Facebook Lives and delete the first part so that is a skill I need to learn.
Before I post the recipes for the cards let's take a moment to look at the Stampin' Up! news for the month:
The Stampin' Cut and Emboss machine is available for purchase!
Stampin' Cut & Emboss Machine
This machine has a wide 6″ (15.2 cm) platform that works with all Stampin' Up! dies and embossing folders. Includes 1 Base Plate (Plate 1), 1 Die Plate (Plate 2), 2 Cutting Plates (Plate 3), and 1 Specialty Plate (Plate 4). #149653, $120.
Here are four videos (less than two minutes each) to show you the details of the new machine:
Magnetic Cutting Plate
Thin, fully magnetic sheet with self-healing cutting surface. Magnetic Cutting Plate (Plate 5) holds dies securely in place, even nested dies. This slim, portable sheet replaces a Cutting Plate in your sandwich, making it even easier to take with you. Use with the Stampin' Cut & Emboss Machine.  #149656  $24
What a beautiful machine!  The mini version of the machine is not available yet, but we hope soon.  All the plates are available to purchase separately and the specialty plate works with our 3D embossing folders just like the blue plate we had in the past.
Paper Pumpkin for September-  You must subscribe by tomorrow!  Click on the image:
Name:   Hello Pumpkin
Details:
Kit contains enough supplies to create 20 cracker box treat packages.
Each cracker box treat package can be customized to celebrate Halloween, Thanksgiving, the autumn season, or all three!
Coordinating Colors: Bumblebee, Basic Black, Cajun Craze, Cinnamon Cider, Mossy Meadow, Old Olive, Pumpkin Pie, white
September's kit is a must-have for those who love to celebrate all things spooky. But, for those who don't enjoy the Halloween haunts, the multi-occasion stamp set combined with a variety of die-cut and reversible paper pieces offers many ways to customize your fall crafts!
The Hello Pumpkin Paper Pumpkin Kit includes enough supplies to create projects celebrating Halloween, Thanksgiving, and the autumn season. Make them all the same, or mix 'n' match!
While this kit was designed to offer a unique treat packaging experience to subscribers, the supplies can easily be used to create cards for any autumn occasion. Don't worry—we'll be sure to provide plenty of project inspiration to spark your creativity!
The Clearance Rack has been restocked:
Join our team of "Carin' Crafters" and get more products!
In addition to the regular starter kit (for $99 USD/$135 CAD, new recruits choose $125 USD/$165 CAD-worth of products) new recruit will also receive enough cardstock pieces to make 16 cards, a pack of Rhinestone Basic Jewels, the So Much Love stamp set, and the Queen Anne's Lace stamp set—all for their first event.
There is so much going on in September, and I just attended Leader's Summit so I have lots of ideas to make being a part of the team fun. I would love to have you JOIN NOW!
    I want to see how you made that cool pumpkin!
Good plan, let's get started with my favorite part – teaching!
Simply Thankful
I am casing a card that Rosanne Mulhern of Heartfelt Stampin' made last year but changing the products to current products and using the Mini Curvy Keepsakes dies to make a pumpkin instead of the Apple Builder punch she used.
Stamp Set:   Country Home
Punches:  Medium Daisy Punch,  3/8″ Circle Punch for the Black Eyed Susan
Dies:
Mini Curvy Keepsakes Box Dies for the pumpkin and its stem
Gathered Leaves Dies for the five leaves in different colors
Banner Blooms Dies for the pumpkin vine
Forever Flourishing Dies for the little crumb cake accents
Rectangle Stitched Dies
  Did you enter a challenge to see how many dies you could use on one card?
No, I am just stepping out of my comfort zone to make a collage type card.  Wait 'til you see the wreath collage I made with the Forever Flourishing dies.  Next post!
Recipe for Simply Thankful:
Base:  Basic Black, 5 1/2 X 8 1/2 scored at 4 1/4.
Barnwood Layer:  In Good Taste Designer Series Paper (DSP), 4 X 5 1/4.
Black Layer:  3 1/2 X 4 3/4 cut with the Rectangle Stitched Die;  TIP: use wax paper between the die and the cardstock.  Emboss the greeting in white slightly to the right and then use Black Stampin Dimensionals to adhere.
Pumpkin:  Pumpkin Pie Cardstock 2 1/4 X 2, make 2 with the Mini Curvy Keepsakes Die using just the handle section not the slot section of the die.  Before trimming down to size and making the bottom and top circular, lay one section 1/4″ over top of the second section and score a line following the curve of the section. Repeat on the other side.  Score the line, color it with a Pumpkin Pie Marker and then sponge it.  Do the same on the second section if you want to choose between the two sections for which one looks best for the top.  Cut the bottom and top of each section to shape the pumpkin.  Sponge all the edges of both sections and down the middle of the top section. Cut one section in half and glue each half behind the front section.
Pumpkin Stem:  Cinnamon Cider, 2 X 7/8, Cut with the handle of the Die.  (This can be run  at the same time as the pumpkin sections.) Cut in half, trim off excess and use a crumb cake marker to add a few lines.   
Pumpkin Vine:  Garden Green, 1 X 2, make 2 with the Banner Blooms Dies.
Medium Leaf: Cajun Craze, 2 X 2, the leaves are all cut with the Gathered Leaves Dies.  Sponge the veins lightly and then the edges on all the leaves with their corresponding inks.
Medium Leaf: Old Olive, 2 X 2, sponge
Large Leaf:  Daffodil Delight, 2 X 2, sponge
Large Leaf:  Merry Merlot, 2 X 2, sponge
Small Leaf:  Mango Melody, 1 1/2 X 1 1/2, sponge
Black Eyed Susan:  Mango Melody, 2 X 2 for each Medium Daisy Punch. You need six punched flowers so a 2 X 8 plus a 2 X 4 strip will work. Sponge the center with Mango Melody. Adhere two together with a glue dot.
Inside of flowers:  Early Espresso, 1 X 3, Punch with 3/8″ or 1/2″ circle punch. Adhere with a glue dot.
Inside Layer:  Mango Melody 4 X 5 1/4
Bottom Strip on Inside:  In Good Taste Designer Series Paper (DSP), 4 X 1/2.
Now the fun part of creating your collage!  Start with the pieces on top of the pumpkin and work to the back.  I used glue dots- lots of glue dots!
Other options for making a pumpkin are the Apple Builder Punch or using five circles or five ovals to layer together.
Beautiful Moments
Stamp Set:   Beautiful Moments
Punch:  Moose Punch
Embossing Folder:  Woodland
Dies:
Circle Die for the frame
Poinsettia Die for the oak leaf greeting
Sweet Silhouettes Die for the tree
Dockside Dies for the grass and cattails
Recipe for Beautiful Moments:
Base:  Cajun Craze, 5 1/2 X 8 1/2 scored at 4 1/4.
Aspen Grove Layer:  Very Vanilla, 4 X 5 1/4, Embossed with the Woodlands Folder after the folder is inked on the indent side with Crushed Curry.  I turn the ink pad upside down and tap it on the folder.
Tree:  Mango Melody, 3 1/2 X 5, die cut with the Sweet Silhouette Tree Die.  Tip: Use two folded up dryer sheets underneath your cardstock to make removing the little bits quite easy since they stick to the dryer sheet.  The tree trunk and limbs are colored with the Dark Soft Suede Stampin' Blend.  The far left side of the tree has a limb that will need cut off so you can attach the trunk of the tree with a glue dot at the bottom left behind the circle frame.  (I glued that little branch in the inside of the card as you see above.)  Adjust the tree so that all the leaves will be inside the card borders.  When you are completely done, place a small amount of Tombow glue on the silicon sheet and use a toothpick to add bits of glue to the leaves to attach to the circle.
Circle Frame:  Cajun Craze 4 1/2  X 4 1/2, Die cut with two layered circle dies to create the frame. Sponge the inside and outside of the frame with Cajun Craze and mount the tree at the bottom left behind the circle. Use Stampin' Dimensionals to pop up the frame.  You will need a dimensional at the thickest part of the trunk of the tree.
Green grass and cattails:  Pear Pizzaz, 2 1/2 X 3; die cut two grass sections from the Dockside Die.  Color the cattails with Early Espresso and sponge the grass with Crumb Cake to give it that end of the summer look.
Moose:  Early Espresso, 2 1/4 X 2, punched with the moose punch and sponged on the edges.
Greeting:  Very Vanilla, 2 1/4 X 1 1/2 , die cut with the leaf in the Poinsettia Dies.  Stamp with the "collect beautiful moments" from the Beautiful Moments stamp set, sponge the edge with pumpkin pie, then add an orange rhinestone.  Glue to the circle but add a tiny dimensional to the left edge to attach to the aspen grove layer.
Inside:  Very Vanilla,  4 X 5 1/4, the little tree limb is glued to the inside corner .
Did I forget anything, Sal?
   I sure hope not or you will have so many instructions you will lose your audience.
Paul, my DH, looks at these and says "another Karen card".  I keep telling him someday I will learn to make clean and simple cards but I always want to challenge myself.  He suggested I call them Carin' Cards to reflect a Caring Karen.  He got a kiss for that!   So I decided our team should be called Carin' Crafters for the caring and sharing card makers that we are and yet a bit of a spoof on Karen vs. Carin'.  What do you think?
Take a look around the new shop!  We have new software to make the shopping experience better.  I will be back soon to post the swaps and mystery cards we made in August.
SAL,  Sighing A Lot as summer leaves us
Karen
Hostess code for September:  SA9YHAC3
Welcome to my blog!
Online Store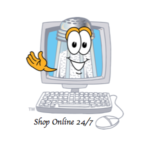 Subscribe to Blog via Email
Join 159 other subscribers
Categories